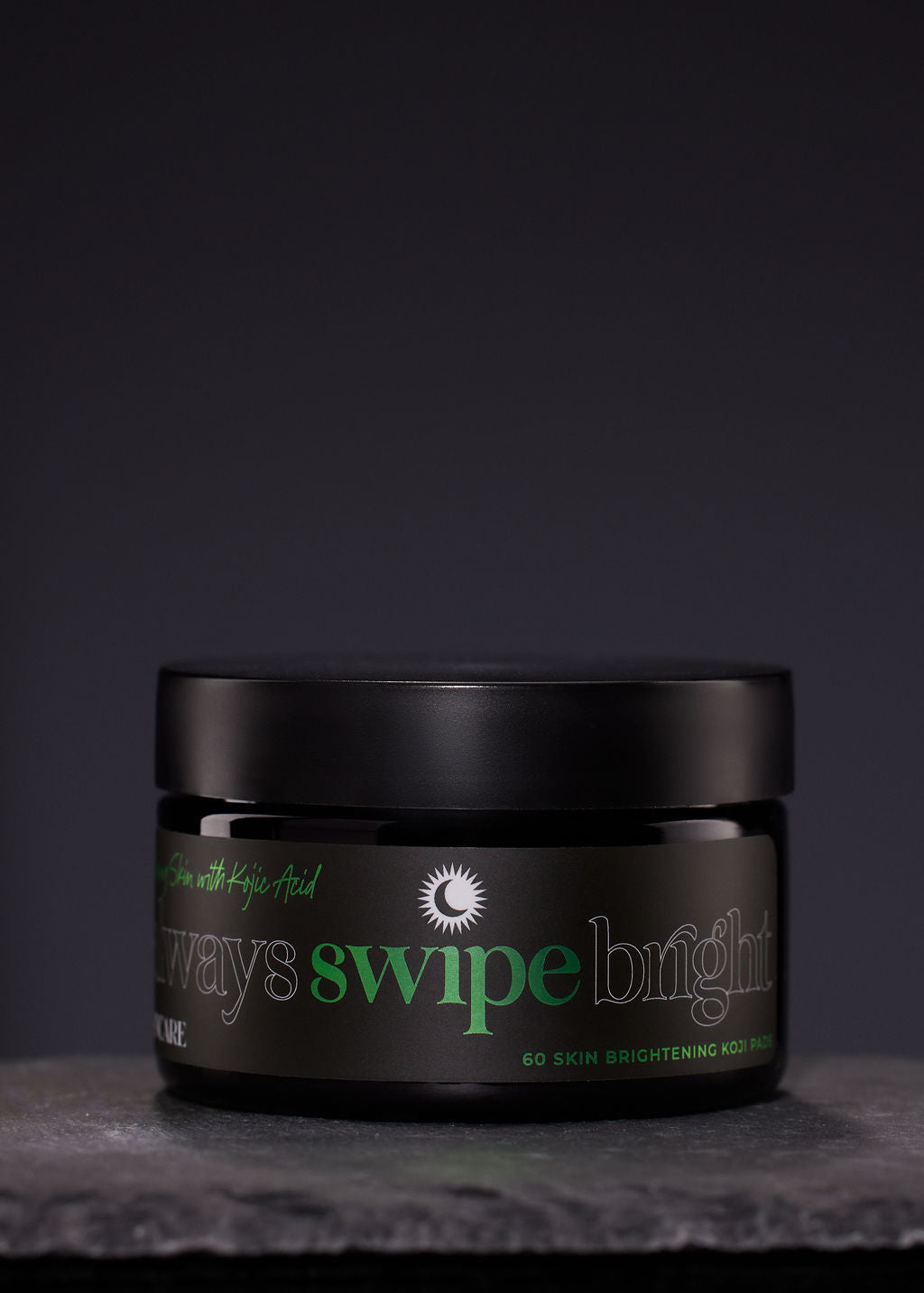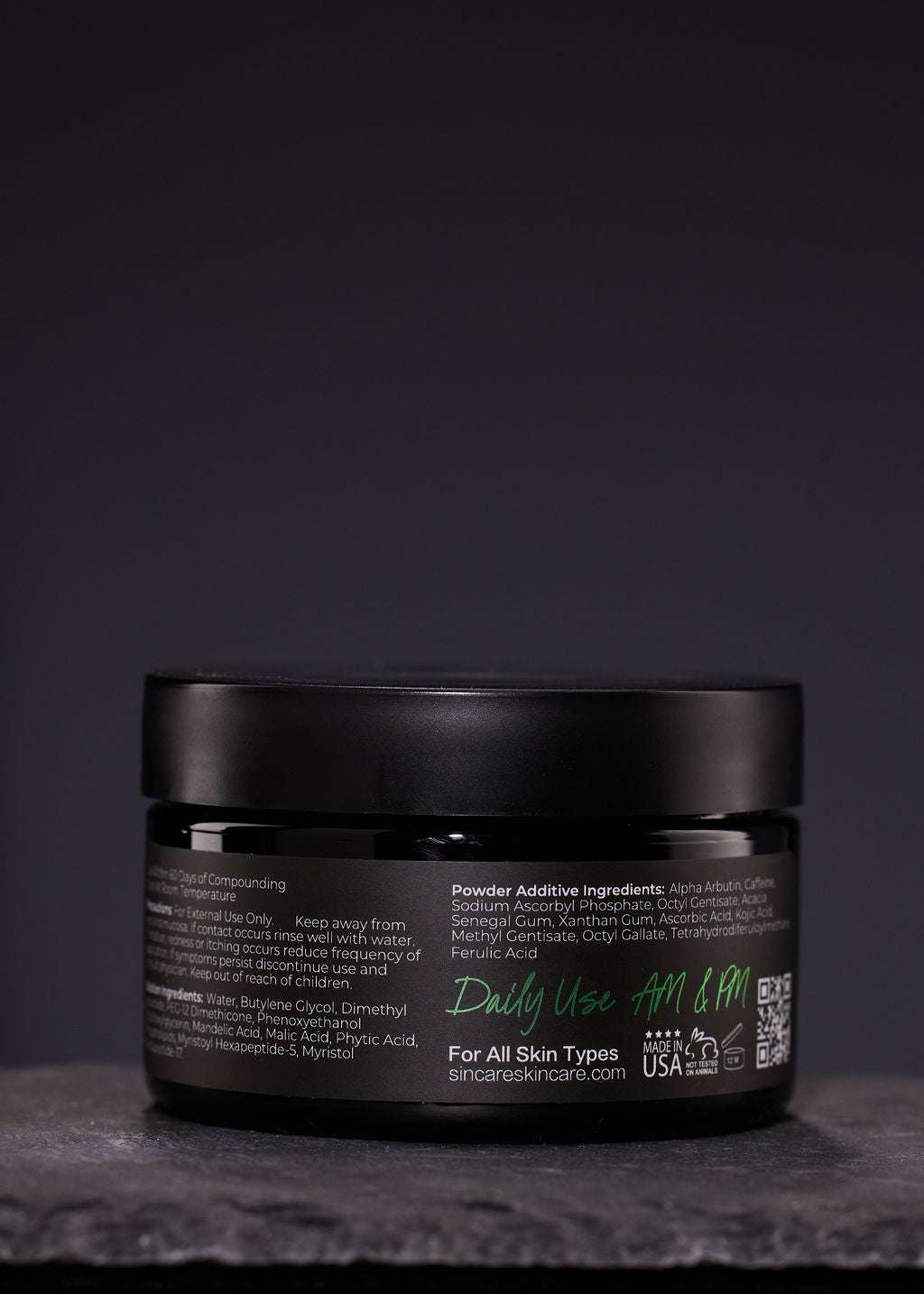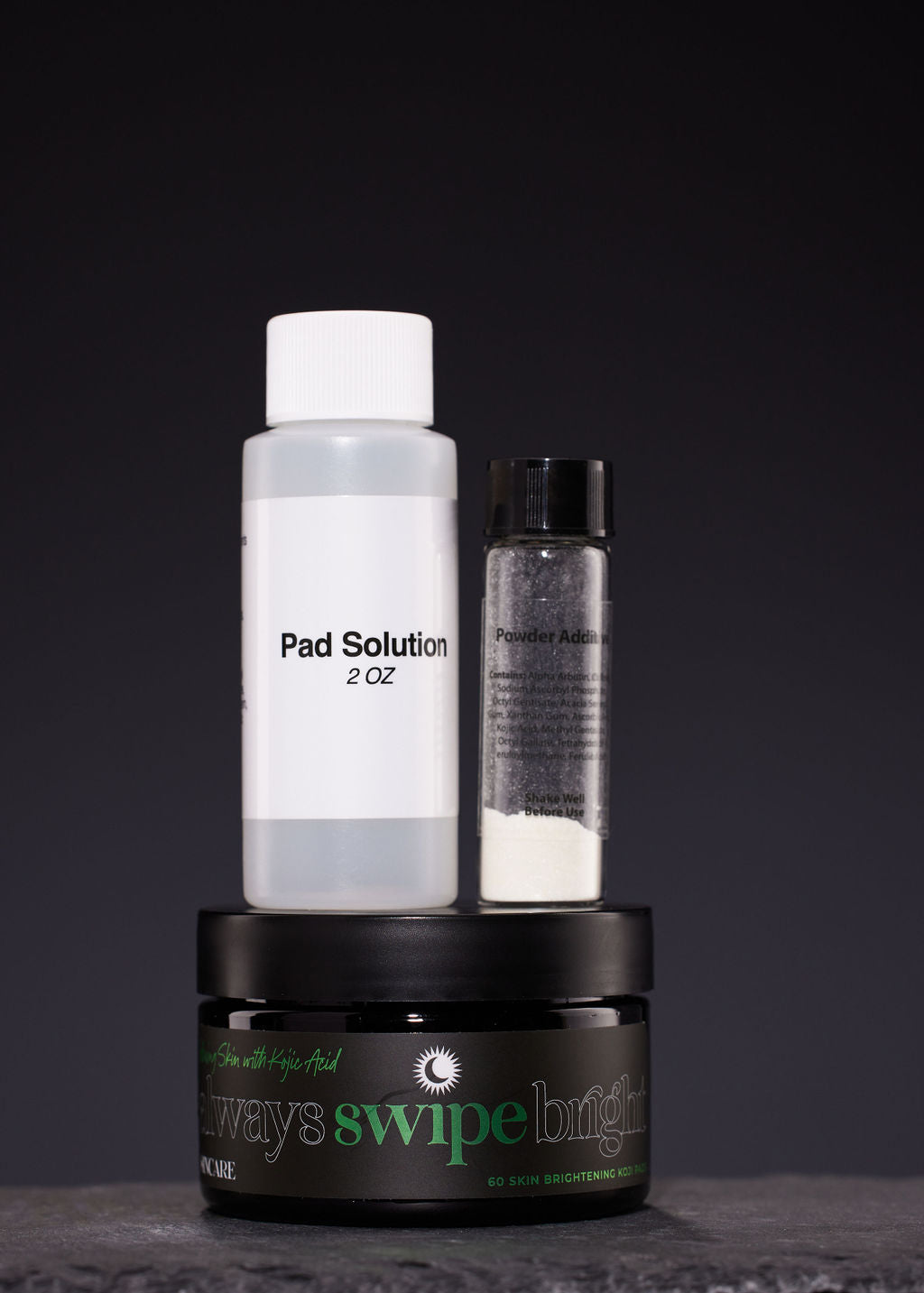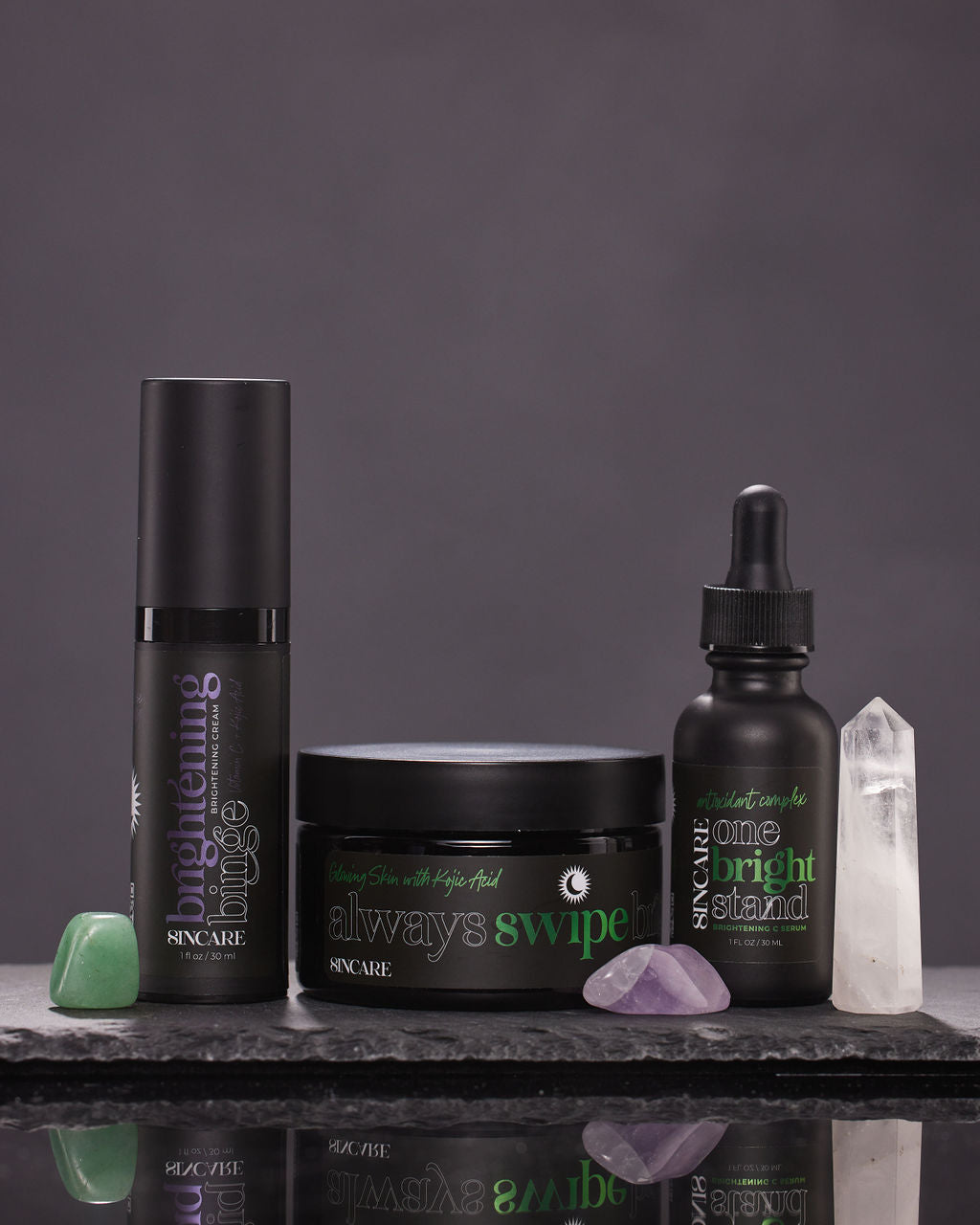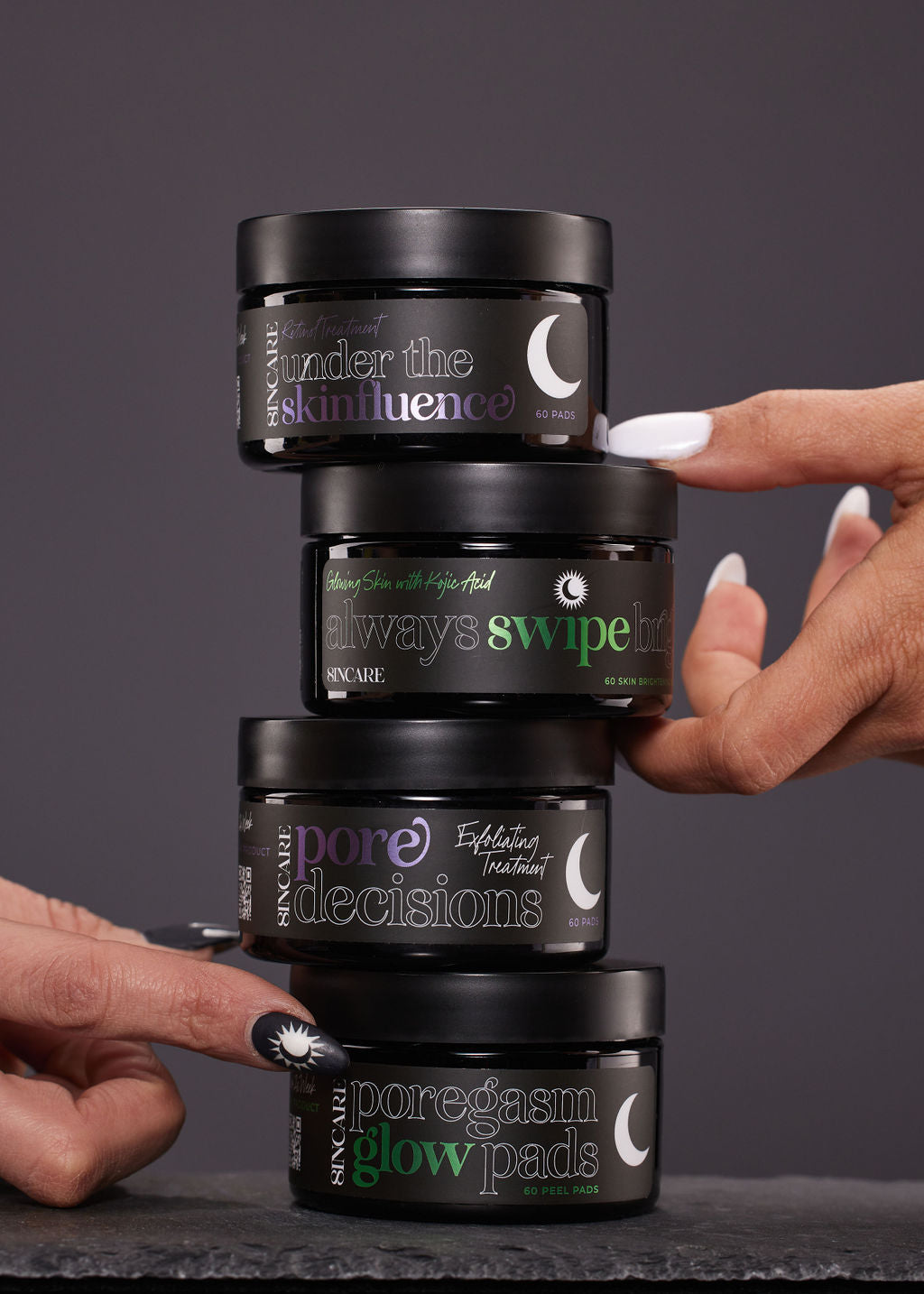 Always Swipe Bright
Our powerful skin-brightening pads help you leave dark spots and unwanted freckles in the dust. Use it on your face or apply it to your chest, arms, legs, and back for a full-body glow. 
Sinfully Hot Takes
Our hydroquinone and alcohol-free formula improves the appearance of dark spots and freckles without drying out your gorgeous skin.
We brought in all our top players for this one – arbutin, ascorbic acid, kojic acid, and phytic acid join to create a potent solution that works like a charm..
Licorice extract is a key ingredient in our brightening pads that helps to interrupt the stimulation of an enzyme that activates melanin production to improve hyperpigmentation.
Apply 1-2 times daily to the face or other affected areas, including the chest, legs, arms, and back. 
Video Demo Coming Soon!
Use Always Swipe Bright to maintain results from Photofacial or BBL, VI Peel, Microneedling targeting Pigment, Moxi and Cool Peel
AM: Cleanser, Always Swipe Bright, One Bright Stand or Filler UP, Brightening Binge
PM: Cleanser, Under the Skinfluence 5x/week, Poregasm Glow Pads 1x/week, Tox Fix Spot Treat, Less baggage
Active Ingredients:
Alpha Arbutin, Ascorbic Acid, Sabiwhite
Ingredients:
Solution Contains: Water, Butylene Glycol, Dimethyl Isosorbide, PEG-12 Dimethicone, Phenoxyethanol Ethylhexylglycerin, Mandelic Acid, Malic Acid, Phytic Acid, Phospholipids, Myristoyl Hexapeptide-5, Myristol Pentapeptide-17

Powder Additive Contains: Alpha Arbutin, Methyl Gentisate, Octyl Gentisate, Caffeine, Sabiwhite, Ascorbic Acid, Ferulic Acid, Sodium Ascorbyl Phosphate, Octyl Gallate, Kojic Acid